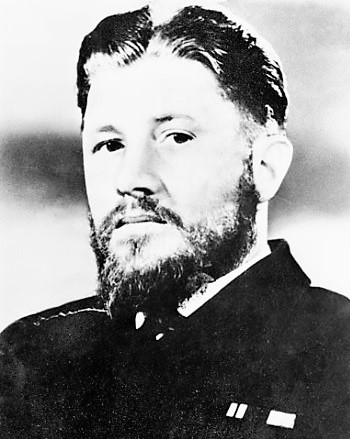 Just being in the military can be dangerous.  You don't need to be engaging an enemy, or even be in a war zone, to lose your life.
The photograph is of Chief Petty Officer Jonathan Rogers, GC, DSM (16 September 1920 – 10 February 1964). He was posthumously awarded the George Cross (GC) for the heroism he displayed on the night of the 10th of February 1964, during the sinking of HMAS Voyager.
Chief Petty Officer Rogers was born in Llangollen, Wales. He joined the Royal Navy at the age of 18 and was awarded the Distinguished Service Medal (DSM) for the 'coolness and leadership' he showed while serving as coxswain of Motor Torpedo Boat 698 in action in May 1944, during WW2. He emigrated to Australia after the war and joined the Royal Australian Navy (RAN), serving in the Korean War.
He was serving aboard the destroyer HMAS Voyager when, during exercises, it was struck and sliced in half by the aircraft carrier HMAS Melbourne.
Chief Petty Officer Rogers, along with more than 50 other men, was trapped in the sinking forward part of the stricken destroyer.
Making no attempt to save himself, he helped as many men as possible escape through a small escape hatch, and, as the compartment sank ten minutes later, was heard leading his trapped shipmates in a prayer and hymn as they met their fate, as his citation said, with 'dignity and honour'.
He left behind a wife, son, and three daughters. I have read that his wife said of him: 'It was typical of him – he never thought of himself'.
The sinking of HMAS Voyager with the loss of 82 of the 314 crew aboard, was the largest loss of Australian military personnel in peacetime.
On the 3rd of June 1969, HMAS Melbourne also collided with the destroyer USS Frank E. Evans of the United States Navy (USN). The two ships were participating in SEATO exercise Sea Spirit in the South China Sea. Around 3:00 am, when ordered to a new escort station, USS Frank E. Evans sailed under the bow of HMAS Melbourne, where the destroyer was cut in two. 74 American crew members aboard the destroyer were killed.
Lest We Forget.
Information came from Wikipedia. Photograph came from the Australian War Memorial. Image file number AWM 135436. Her or His Majesty's Australian Ship (HMAS) is a ship prefix used for commissioned units of the Royal Australian Navy (RAN). Every effort was made to research the accuracy of the content on this post, but information can vary from different sources
Below, on the three paintings, there is a link on this website to paintings by Peter Barnes.  Peter also does commissioned paintings.